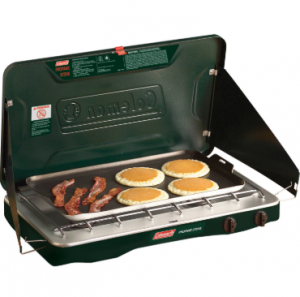 A camping stove with a griddle – a flat iron pan that fits onto the stove – gives you the chance to deal with foods like canned meals, pancakes, smaller sausages and meats that a regular stove might not be able to handle.
Charcoal
Charcoal camp stoves with a griddle come in two varieties. The first has the griddle built into the stove, while the second uses a griddle that slides into the stove, but comes with other types of cooking surfaces. If you opt for a charcoal stove, you'll need to purchase the coals in advance of your trip, but you can use any type of charcoal. You'll also want to bring extra charcoal with you since the amount in the stove will only last for one cooking session.
Propane
Propane camping stoves with a griddle are more popular than charcoal because the attached can of propane lasts longer than a bag of charcoal. Some have the griddle placed on the side away from the burners with an additional heat source underneath the griddle, which allows you to use the burners and griddle at the same time or only use one at a time. Other models use two burners on the main part of the stove, with the griddle placed directly beside the burners. This type of stove uses one main heat source, which heats all burners and the griddle at the same time.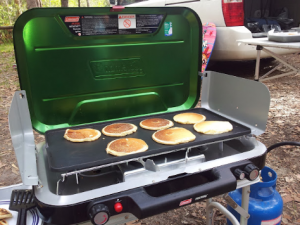 Do It Yourself
If you're looking for something even more convenient to carry, then you should consider a do-it-yourself method by using a griddle pan like you would use in your home and a campfire. Made of cast iron or aluminum, the pan has a flat surface and two carrying handles. The pan slides directly onto the fire where it heats up slowly until you're ready to use it. You simply put your food in the pan, which you place back on the fire. This is best for camping in remote areas accessible only by long hikes that make carrying one of the heavier propane or charcoal stoves less than ideal.
Legs
A few versions of griddle stoves come with legs. These stoves otherwise work exactly the same as their tabletop versions, with the advantage that you can set it up in any location. You also have the option of purchasing a stove with a work-space beside it or extra storage underneath the table.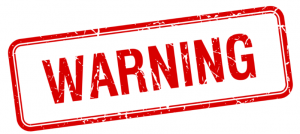 Warning
Avoid smoking around the stove. Ensure that the stove is put together properly and that there are no leaks in the line or tank. Parents should also be alert when small children are around; they can easily burn themselves on the griddle portion, which stays hot even after the stove is turned off.